White Glove Realty is a full service real estate brokerage serving the Houston and Surrounding Metro areas. We take great care and attention to helping families buy, sell, design or build real estate property. Our team is positive, caring and motivated and serves 100's of families annually in investing or selling their property. Jessica Holcomb, Broker/Owner of White Glove Realty has years of experience starting in 1999 selling specifically new construction homes. With that experience we added our sister company White Glove Design to assist our clients who would like to make changes to the home they just purchased or possibly one that needs a face lift so they can sell it for a profit. We also assist in Commercial Design & Build Outs. Our focus is to create spaces people love for the highest and best use and that would bring a higher return on their investment - especially because we know what the current market is looking for.
White Glove Realty Services Offered
Residential, Commercial Buyer & Seller Representation
Residential, Commercial Landlord & Tenant Representation
Home Renovations from Design, Staging, Full Remodels & Additions by White Glove Design
If you or someone you know is looking to buy or sell a home please contact us today!
You can also
search for Homes Here!
Growing at a rapid rate we are search for loyal, positive, team players that are ready to grow their business. We offer training, one-on-one mentoring, coaching, cloud based data management & more. Our tools and systems will help you take your business on the fast track to the next level by working smarter not harder. Together as a team we are able to better serve our clients and create life work balance. If you would like to inquire about a spot in our Houston Office please contact us today!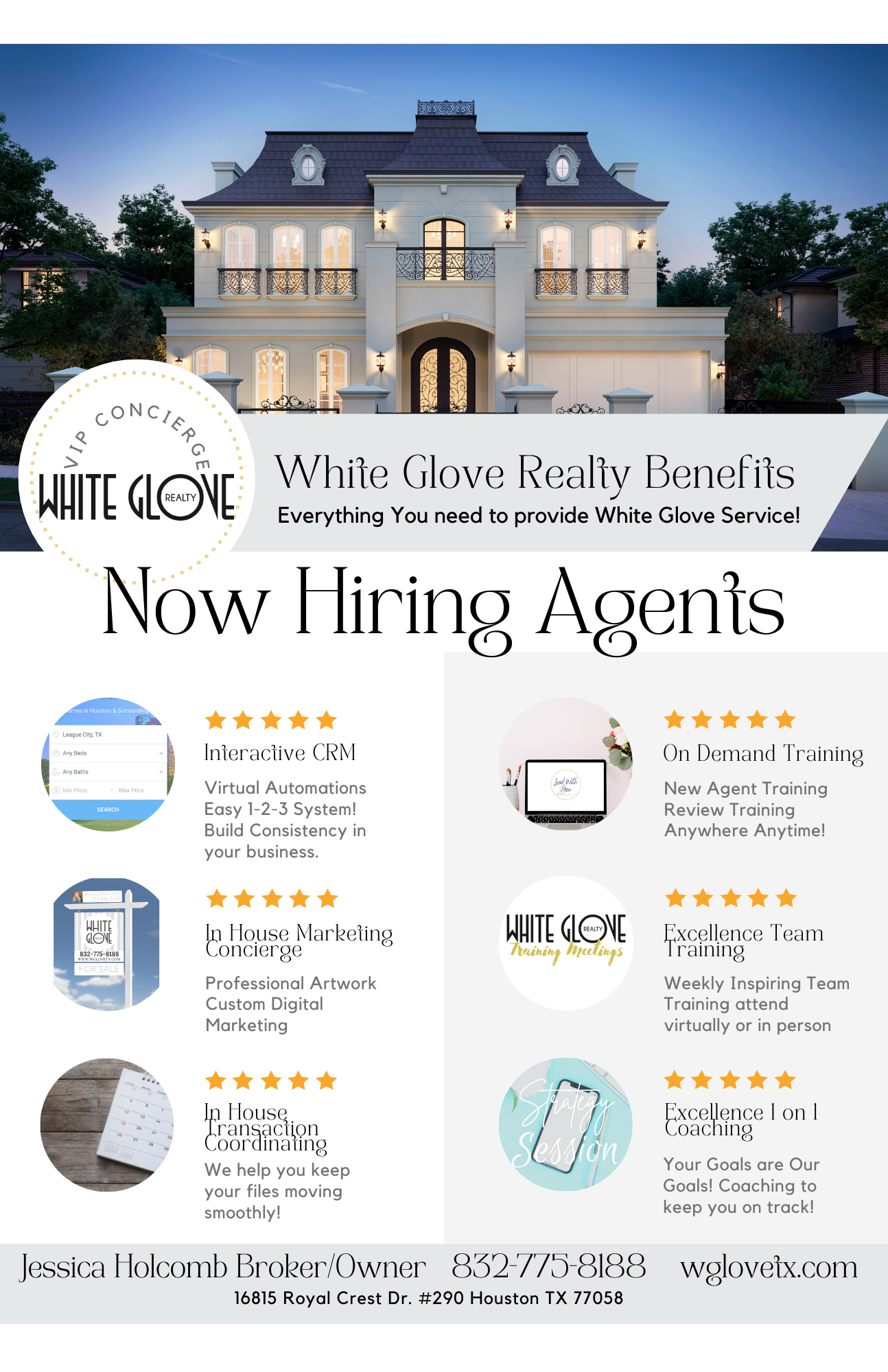 5/3/17 - My property had a contract and nearly 1100 views in 5 days. In 2 weeks the house was sold. That's pure professionalism.
by Alice Armand
5/18/17 - Realtor always helpful and available to answer any questions regarding sale of our house. Knowledgeable and always kept up to date and understood events. Very pleased.
by Mrs. Pesl
8/25/15 - We loved the personal attention both Jessica and Jennifer gave us. They were very knowledgeable about the current maket in our area. Our home sold in less than 3 days for above asking price.
by Mr. & Mrs. McLean
8/7/15 - Thank you for your great support and your experience, you made my housing hunting fun...thanks once again..
by Mr. Cueto
7/3/15 - Jessica and her team are amazing! I am very happy with the way she marketed our home and guided us through the process. I would highly recommend using Jessica to sell your home! She is the best!
by Mr. & Mrs. Fuhrman
6/22/15 - I would recommend this team to anyone. They were very prompt on answering any questions I had and were very encouraging..
by Deborah Cox
6/8/15 - I understand my house wasn't necessarily as fancy nor expensive as what she is used to dealing with (it was our started house), but she never once made me feel as if I was inferior or unimportant in any way. Very professional and highly recommended.
by Mr. Hart
2/14/15 -Jessica Holcomb and her entire team are excellent in every regard. I could not have been more pleased with my experience with her as a sales professional in terms of her knowledge, business acumen, work ethic, and personal skills. She assured me that the whole process would go smoothly, and she absolutely made sure that it did, despite all odds. She worked hard behind the scenes so that I didn't have to. She is highly competent, enthusiastic, and a pleasure to work with. I enthusiastically recommend her to anyone buying or selling a home.
by Taylor Simpson
5/14/14 -There are so many Realtors out there. Do yourself a favor and go with the White Glove team. Our Buyers Specialist truly knew the areas we were interested in. We asked tough questions, We asked for the tiniest details while researching a property. Our Specialist delivered! Her thoroughness and quick responses shortened our search time.
by Mrs. Meehan
6/14/2012 "Jessica was tremendous help in the purchase of our first and second home. She was very knowledgeable of the area and always quick to respond to our needs. Super sweet lady, passionate about what she does. If we ever buy again, will definitely use her to help us find a home."
by JOSH LACOUR
2/5/2014 "My experience with Jessica was absolutely wonderful! My husband and I used 4 different realtors until we met Jessica and she was finally able to help us. She was knowledgeable and efficient and communicated with us very well. I would recommend her services to everyone I know."
by LAURA
5/19/2009 "We would recommend Jessica Holcomb to anyone for any real estate needs. She is very personable, trustworthy and efficient!"
by KACHI & ORIEJI ILLOH